Special Promotion
"We love multibook by Kao Supassara !!"
Get implementation fee free
multibook × Kao Supassara
Tie-up campaign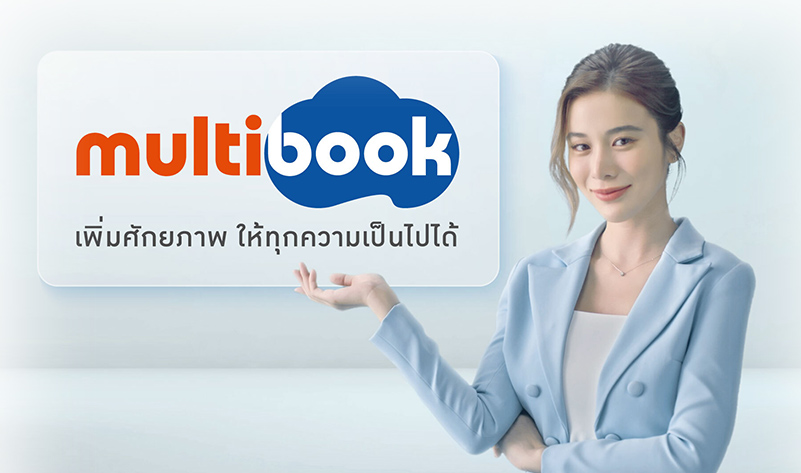 Cloud-Based Accounting/ERP software
"multibook"


Certified by Thailand Revenue Department

multibook is a service that meets accounting and taxation requirements in Thailand.
Multi-currency & Multi-language for real-time business monitoring of global subsidiaries.
Global subsidiaries' management, Reporting to HQ, Internal control and Consolidated accounting can be easier and faster with multibook.
For issues in Headquater
Reporting from Thai subsidiary is too slow and little to be analyzed well.

Blackbox accounting system blocks the internal control in Thai subsidiary.

Slow closing of consolidated accounting.
Difficult to manage global business data.
For issues in Thai subsidiary
Reporting to HQ takes much labor cost and disturbs Thai business (Production, Sales, etc.)

All are processed only in Thai language and Japanese manager won't check them.

G/L prepared by accounting firm, but monthly report to HQ by myself with double input.
About this Special Promotion
The valued customers, searching ERP/Accounting service suitable for Thailand and global enterprise, can get the discount 210,000THB (= our standard implementation fee) after the watching this movie as follows.
If you want this special promotion, please contact multibook from the button below and don't forget to tell us "We love multibook by Kao Supassara !!".
Detail of this promotion
Conditions of entry
Period

Start date of this movie ~ 30/Apr/2022

Conditions

Company registered in Thailand.
Responsible person in your company (Accounting Manager or above) contacts us (multibook) in this period.
Contacts us with telling "We love multibook by Kao Supassara !!"

※After watching this movie above (Ms. Kao Supassara and mulitibook movie 2022), tells us you have watched it when you contact us.

Submits to start to use multibook service and issues P/O in this period.
Coverage of this promotion
We (multibook) discount the amount of our standard implementation fee (※1) from the total of the implementation fee.

※1:"standard implementation fee" is our standard amount for our implementation support cost. It is estimated by our labor cost of working days for our standard implementation support of the accounting module of multibook service.

Discount amount (Maximum)

Maximum 210,000THB (※2) will be discounted from the initial implementation fee.

Breakdown of the discount amount. (※3)

・Environment setup fee: 35,000THB
・Implementation support fee: 175,000THB(※4)

※2:Standard fee for our implementation support for accounting module (1 module) of multibook service.

※3:In case that the other fees are needed except for this breakdown of the discount amount, we will arrange the quotation for these fees and confirm it with the customers.

※4:Implementation support fee includes 5 man*day of our standard implementation support. In case that the additional support of us is needed, we will estimate the total cost of implementation support and arrange the quotation of the exceeded fee after the discount amount of this promotion.
Out of coverage
Only the companies registered in Thailand can entry this promotion. Companies in the other countries are out of coverage.

Only the new customers can entry this promotion. The current customers (using multibook service, or under the implementation of multibook service, or using/implementating multibook service in their group company) is out of coverage.